Abstract
Introduction: We often experience recurrence of spinal metastases after palliative surgery, even with radiotherapy. We examined the clinical outcome of radical surgery containing en bloc corpectomy for patients with recurrent spinal metastasis.
Methods: Seven patients underwent en bloc corpectomy for recurrent spinal metastases. We assessed the prognosis scores (Tomita, Tokuhashi), pre- and postoperative Frankel scale scores, operation time, intraoperative blood loss, and perioperative complications.
Results: The preoperative estimated prognosis was less than six months (two patients), six months to one year (two patients), and over one year (three patients), according to Tokuhashi score. Major perioperative complications were dura mater injury and pleural injury. Neurological improvement was seen in four patients. All patients were ambulatory at discharge and lived longer than the preoperatively estimated life expectancy (range: seven months to four years).
Conclusions: Radical surgery consisting of en bloc corpectomy may be a therapeutic choice for patients with recurrent spinal metastases.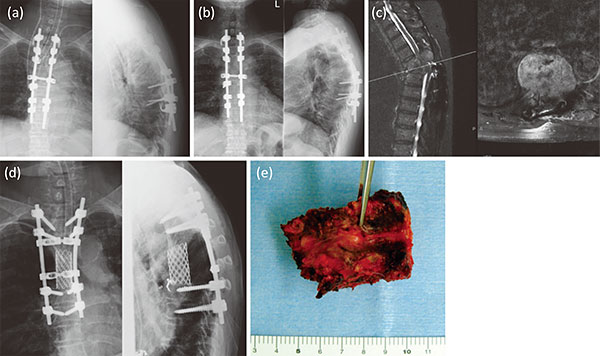 © 2017 The Japanese Society for Spine Surgery and Related Research.

SSRR is an Open Access journal distributed under the Creative Commons Attribution-NonCommercial-NoDerivatives 4.0 International License. Anyone may download, reuse, copy, reprint, or distribute articles published in the journal for not-for-profit purposes if they cite the original authors and source properly. If you remix, transform, or build upon the material, you may not distribute the modified material.
https://creativecommons.org/licenses/by-nc-nd/4.0/