Abstract
Introduction: Intramedullary lesions and tumors are generally accessed by a posterior approach. However, if the lesion is located on the ventral side of the spinal cord, a posterior resection with myelotomy poses technical difficulties. We report two cases of complete resection of a cervical ventral intramedullary cavernous hemangioma using an anterior approach.
Case Report: Two cases of intramedullary cavernous hemangioma located on the ventral side of the spinal cord were successfully treated by total resection with anterior cervical corpectomy followed by anterior spinal fusion with an autologous bone strut from the iliac crest. In both cases, the postoperative course was uneventful, and there was no neurological deficit. Bony fusion was achieved, and there was no recurrence or complication during a follow-up period of at least two years.
Conclusions: Here, we describe an anterior approach for total resection of cavernous hemangiomas on the ventral side of the cervical spinal cord. Outcomes were stable two years after the operations. Although the method should be assessed with more patients and a longer follow-up time, this anterior approach may be useful for the radical resection of a vascular malformation or tumor.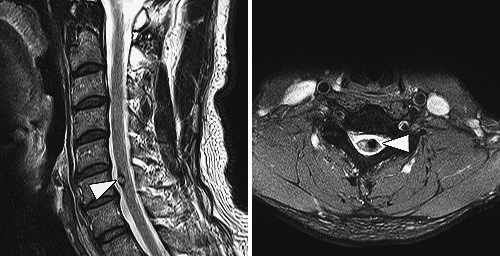 © 2018 The Japanese Society for Spine Surgery and Related Research.

SSRR is an Open Access journal distributed under the Creative Commons Attribution-NonCommercial-NoDerivatives 4.0 International License. Anyone may download, reuse, copy, reprint, or distribute articles published in the journal for not-for-profit purposes if they cite the original authors and source properly. If you remix, transform, or build upon the material, you may not distribute the modified material.
https://creativecommons.org/licenses/by-nc-nd/4.0/