Abstract
A new process of internal activation of carbon fiber reinforced thermoplastic polymer (CFRTP) of polypropylene (PP) by applying electron beam irradiation (EBI) under oxygen (O2)–rich nitrogen gas (N2) atmosphere to CF chopped strand matt (CSM) layers prior to assembly and hot press to strengthen the typically weak CF/thermoplastic polymers (TPs) adhesion was proposed. Samples were interlayered composite with layup of alternating PP and CF plies, [PP]4[CF]3. Composite fabrication was performed by one directional hot-press under constant pressure of 4.0 MPa at 473 K for 1 min. Results showed applying an optimum 0.22 MGy-EBI under protective N2 gas with O2 concentrations between 200 ppm and 200,000 ppm mostly improved the bending strength (σb) while reducing strain at the bending strength (σb) apparently increasing the elasticity. The method appears to work well for the weakest samples in the data sets: at low accumulative probability Pf = 0.06 by median rank method, σb was apparently improved by the 200 ppm and 2,000 ppm O2 atmospheres. Namely, 0.22 MGy-EBI under N2 gas atmosphere with 200 ppm to 2,000 ppm-O2 improved σb at Pf = 0.06 (57 MPa) about 21%, over that of untreated (47 MPa). Strength increase could be explained by mutual entangling of both sizing epoxy film on CF and PP with strong covalent bonding, which formation of direct

induced by EBI and oxygen assisted

by concentrating the O2 gas molecules from 200 ppm to 2,000 ppm-O2 in N2 atmosphere, rather than weak molecular bonding CF-(H2O, N2, O2)-PP for the untreated samples. Moreover, the action of the EBI apparently acts to clean residual H2O, N2, and O2 to purify and activate the CF surface increasing polar group and active site density. They most likely contributed to bending strength enhancement. The 0.22 MGy-EBI in O2-rich N2 atmosphere appears to be a viable method to increase carbon fiber-thermoplastic polypropylene adhesion enhancing reliability and safety of the PP-CFRTP.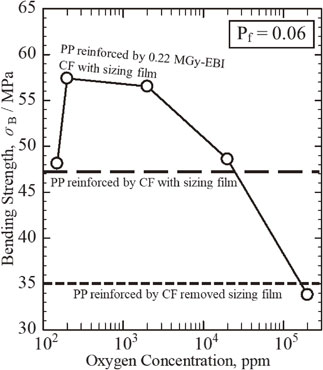 Fig. 6 Oxygen concentration dependent bending strength (
P
f
= 0.06) of PP reinforced by CF treated with 0.22 MGy-EBI under protective N
2
gas atmosphere with each O
2
concentration (solid lines), together with CF untreated with (thick broken line) and without (thin broken line) sizing film.
Fullsize Image